5 Rumah Hantu Ini Tak Hanya Membuatmu Merasa Seram, Tapi Bisa Ketakutan Setengah Mati
Hai PicMixers!
Berbicara soal hantu pastinya banyak juga di antara kita yang bergidik ngeri ya. Pasalnya, hantu identik dengan nuansa misteri yang bisa membuat seseorang menjerit ketakutan atau bahkan sampai menangis. Nah, bagaimana dengan rumah hantu?
Rumah hantu meskipun menyeramkan ternyata juga menjadi daya tarik tersendiri lho bagi wisatawan. Mungkin termasuk kamu juga PicMixers. Meski takut, tapi rasa penasaran yang tinggi bisa jadi modal kuat masuk ke rumah hantu. Tentunya yang dimaksud di sini adalah wahana yang sengaja dibuat horor dan menakutkan. Bukan sungguhan lho PicMixers!
Nah, buat kamu yang hobi berpetualang dengan hal-hal seru, bisa nih berkunjung ke rumah hantu. Ada banyak lho adegan seram di rumah hantu yang justru menarik banyak minat pengunjung. Gak penasaran?
1. Obake Yashiki
via ameblo.jp
Rumah hantu yang terletak di kawasan Fuji Q Highland Jepang ini merupakan rumah hantu terbesar di dunia. Kabarnya tempat ini juga mendapatkan penghargaan berupa Guinness World of Record dengan tema rumah sakit tua yang diusung sebagai konsepnya. Selain suasana yang menyeramkan dengan beragam objek hantu, tempat ini sengaja dilengkapi dengan bau busuk darah dan mayat yang membuatnya terkesan seperti nyata. Berani ke sini PicMixers?
2. The Bates Motel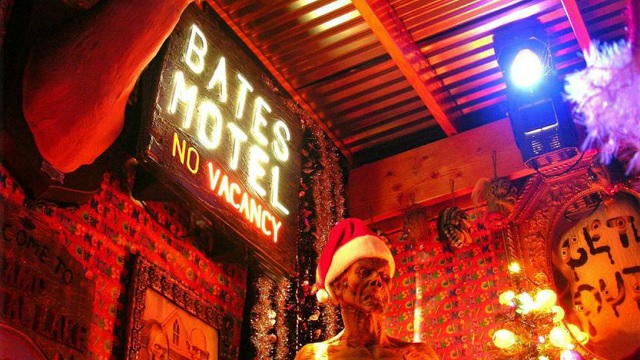 via idntimes.com
Bangunan masa lampau disertai dengan suasana yang menakutkan akan kamu jumpai di bangunan yang sudah berdiri selama 25 tahun ini. The Bates Motel berada di Philadephia, Amerika Serikat ini siap membuat petualangan serumu di rumah hantu makin menantang PicMixers.
3. The 17th Door
via populary.com
Terletak di California, Amerika Serikat, nama rumah hantu yang satu ini juga terkenal lho! Terdapat sekitar 17 ruangan dengan konsep berbeda yang menyuguhkan tantangan untuk para pengunjung. Uniknya, karena dikenal sangat menakutkan, pengunjung akan diminta mengisi surat pernyataan sebelum masuk ke area hantu. Waduh, kenapa begitu ya PicMixers?
4. Freak Week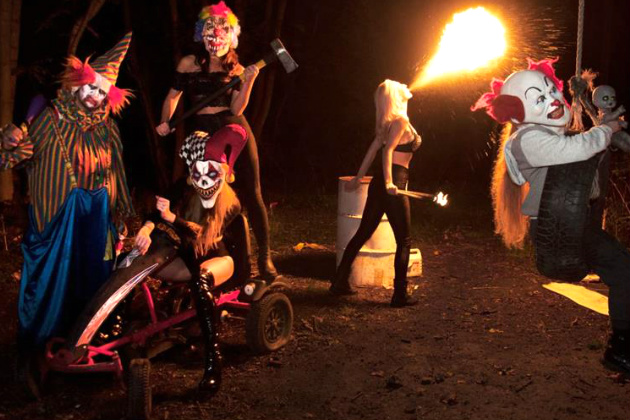 via idntimes.com
Nah, memperingati Haloween, di Inggris memang sudah akrab dengan atraksi yang satu ini. Freak Weak menggabungkan beberapa rumah hantu dengan konsep berbeda yang dibuka secara bersamaan dalam satu tempat. Untuk mengunjunginya kamu harus ke Inggris pada bulan Oktober ya, guys.
5. Mc Kamey Manor
via mirror.co.uk
Wahana ini hanya untuk kamu yang berani ya! Pasalnya, di sini kamu akan merasakan pengalaman ekstrim yang sangat menakutkan. Selain disiram, diikat, dan disatukan dengan hewan menyeramkan seperti tarantula dan lainnya, kamu juga akan disuguhkan dengan atraksi menyeramkan lain PicMixers.
Nah, buat kamu yang doyan banget dengan uji adrenalin boleh dicoba nih! Ingat ya, bukan hanya menakutkan lantaran hal mistis, tapi di wahana satu ini kamu juga diuji dengan hal-hal ekstrim bareng binatang berbahaya lainnya.