Bikin Deg-degan, Pasangan Ini Gelar Pernikahan di Atas Jurang. Yuk, Simak Foto-fotonya!
Hai PicMixers!
Setiap orang memiliki konsep pernikahan impiannya. Mungkin ada beberapa orang yang ingin melangsungkan pernikahan bak puteri-puteri kerajaan atau bahkan konsep pernikahan tradisional ala tempat asalanya. Intinya konsep pernikahan impian adalah hal yang bersifat pribadi dan setiap orang memiliki impiannya yang berbeda.
Namun, apa jadinya jika konsep pernikahan idaman itu harus berlangsung di atas jurang? Yup, alih-alih menikah di kapel, Ryan Jenks dan Kimberly Weglin melangsungkan pernikahan mereka di Moab Canyon, sebuah tebing dengan tinggi dari 120 meter. Di atas ketinggian itu, pra tamu pun menjadi saksi atas bersatunya cinta Ryan dan Kimberly. Wah, jadi penasaran kan kayak gimana potret perinkahannya? Yuk, langsung simak sama-sama!
1. Bukan gedung atau kapel, tebing inilah yang dipilih Ryan dan Kimberly sebagai lokasi mereka mengikat janji sehidup semati sebagai suami isteri.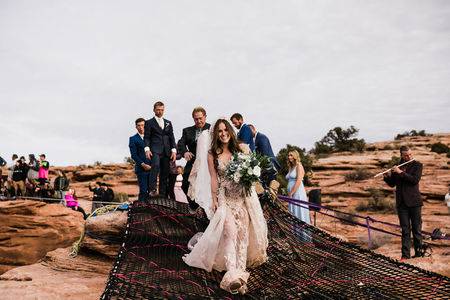 © The Hearnes
2. Pemlihan lokasi ini bukanlah tanpa alasan lho. Jurang ini adalah saksi dimana mereka pertama kali bertemu.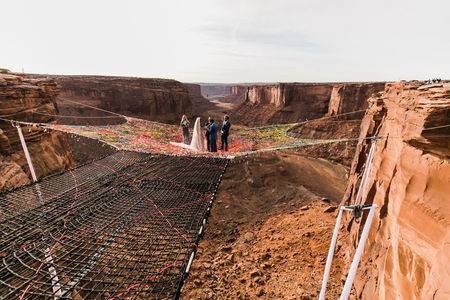 © The Hearnes
3. Yup, Ryan dan Kimberly adalah pecinta petualang yang sudah sering menjajal tempat-tempat ekstrem seperti ini.
© The Hearnes
4. Meskipun tampak menyeramkan, tentu saja pasangan ini menyiapkan alat pengaman berupa tali yang kokoh untuk melindungi semua tamu yang hadir.
© The Hearnes
5. Wah, benar-benar antimainstrem ya PicMixers. Seru nih buat jadi inspirasi pernikahan kamu-kamu yang seorang pecinta alam! Hehehe..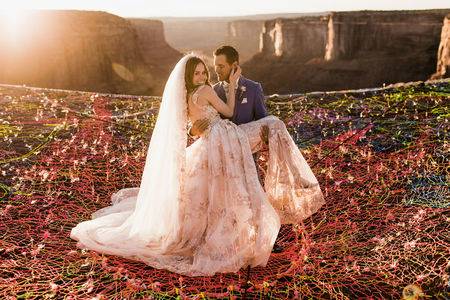 © The Hearnes