Siapa Sangka Ada Rahasia Tersembunyi di 5 Bangunan Populer Dunia Ini, Sekilas Emang Gak Kelihatan Guys!
Hai PicMixers!
Ada beberapa bangunan populer di dunia yang akhirnya dijuluki sebagai landmark karena popularitas dan kekhasannya. Beberapa diantaranya juga pasti udah gak asing lagi di telinga kamu, sebut aja menara Eiffel di Paris, Patung Liberty di Amerika Serikat atau Sphinx di Mesir. Tapi kamu udah tahu belom kalu bangunan-bangunan tersebut punya fungsi lain yang jarang orang ketahui? Yuk, langsung kepoin aja!
1. Rantai Kaki di Patung Liberty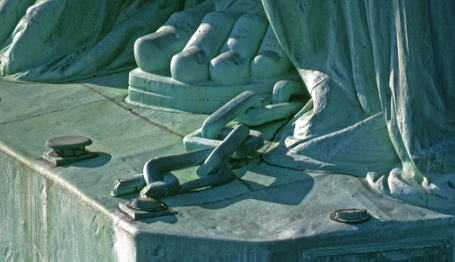 Jika diperhatikan baik-baik, ada rantai putus yang terletak di kaki patung ini lho guys. Tapi hal itu sering luput dari perhatian para turis. Rantai yang putus itu sendiri melambangkan kebebasan, demokrasi dan pembebasan perbudakan. Patung Liberty sendiri diberikan oleh rakyat Perancis untuk menghormati peringatan 100 tahun Revolusi Amerika.
2. Time Capsule di Gunung Rushmore
Gunung ikonik ini ternyata menyimpan sejumoah rahasia guys dan salah satu yang paling terkenal adalah sebuah gua yang berada di belakang pahatan kepala Abraham Lincoln. Alkisah, GutzonBorglum selaku arsitek ini ingin membuat Hall of chronicels di dalam tebingyang menyimpan sebuah rahasia dimana generasi di masa depan akan menemukan catata mendasar tentang sejarah Amerika Serikat. Tapi gak lama setelah itu Gutzon meninggal dan rencananya nggak selesai. Alhasil, setelah 50 tahun kematiannya salinan dokumen penting tersebut ditempatkan di sebuah aula bernama Time Capsule.
3. Ada Apartemen di Lantai Teratas Menara Eiffel
Selama ini banyak wisatawan yang mengabadikan kecantikan Menara Eiffel sebagai latar foto liburan mereka. Padahal, kalau mereka ikut tur untuk naik ke lantai teratasnya mereka akn disambut oleh sebuah ruangan yang dulunya adalah apartemen lho. Apartemen itu sendiri dirancang oleh Gustav Eiffel, sang desainer Menara Eiffel. Dulunya kamar tersebut digunakan sebagai tempat beristirahat dan menerima tamu kayak Thomas Alfa Edison. Tapi kini ruangan tersebut diubah menjadi sebuah museum yang menarik untuk dikunjungi.
4. Penampilan Asli Sphinx
The Great Sphinx of Giza adalah salah satu patung paling bersejarah yang ada di dunia. Awalnya, patung ini dihiasi dengan cat berwarna terang. Tapi beberapa ahli percaya kalai Sphinx awalnya memiliki kepala seekor singa atau anjing dan setengah wajah manusia.
5. Warna Jembatan Golden Gate
Jembatan yang menjadi landmark kota San Fransisco ini memang terkenal ke seluruh dunia. Nah, untuk menyetujui pembangunan jembatan ini sendiri butuh waktu yang lama guys. ketika izin akhirnya diperoleh, Angkatan Laut Amerika ingin jembatan ini dicat dengan garis hitam dan kuning sehingga terlihat kabut. Tapi pada akhirnya, Irving Morrow selaku arsitek jembatan ini meyakinkan militer untuk melukisnya dengan warna oranye gelap.